MUSIC BRINGS US (BACK) TOGETHER
In the heart of the Part-Dieu district, just next to the railway station and numerous hotels, the Auditorium-Orchestre national de Lyon is a prestigious venue for sharing a very special musical evening with your staff and your clients.
The Auditorium easily caters for your guests, whether they are based in Lyon or just passing through. Introduce them to our city's cultural landmark in a prestigious setting during a concert selected from our broad choice of programming. We will work with you to organise bespoke events: treat your guests to an unforgettable experience at the Auditorium that will cement their ties with your business.
We offer a personalised welcome at the protocol counter, a private area with direct access to the main concert hall, to organise cocktails before and after the concert, seats in the most prestigious series, close to the orchestra, and opportunities to meet the artists, along with other exclusive services !

"I really appreciated the personalised reception we were given, the quality of the concert that was recommended to us by the Auditorium team was absolutely remarkable and our guests were delighted with the evening... I'd be only too happy to do it again!"
Ghislaine Vidard, Associate Director – Founder, Axely
CONTACTEZ-NOUS
GET IN TOUCH WITH US
Feel free to get in touch with our teams, who will be delighted to present all of our services so that your evening at the Auditorium lives up to your expectations and meets your objectives in full.
---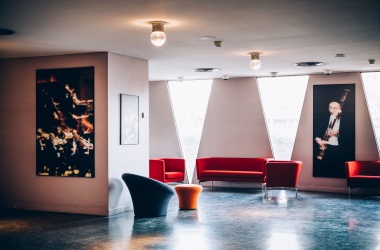 Privatised venues
Its ideal location, striking shape and majestic concert hall make the Auditorium an emblematic venue for all of your events.