ORGANISE YOUR EVENT IN THE HEART OF THE PART-DIEU DISTRICT
The Auditorium-Orchestre national de Lyon makes the city's artistic and cultural news. The Auditorium is known for the quality of its programming and its mediation initiatives for all sectors of the population.
The variety and scale of the venues available at the Auditorium make each event a unique operation that can be shaped to reflect your image. Each event is mapped out together, so tell us what you have in mind !
THE RAVEL SALON
> Closed capacity: 50 people / Floor area: 50 m²
> Open capacity: 100 people / Floor area: 120 m²
The Ravel Salon is a small, intimate venue with direct access to the main concert hall. It is the ideal setting for a pre-concert cocktail party for your customers and staff. Situated on the first floor, the Ravel Salon is a lounge with two bars and large picture windows looking out onto the Crayon tower and the Place Charles-de-Gaulle.
Did you know ? French composer Maurice Ravel was born in Ciboure on 7 March 1875 and died in Paris on 28 December 1937. Alongside his elder, Claude Debussy, he was the most influential figure in early twentieth-century French music.

THE PROTON DE LA CHAPELLE ROOM
> Capacity: 80 people / Floor area: 80 m²
This ground-floor room used to be the orchestra's rehearsal room. Boasting a magnificent cathedral ceiling, the Proton de la Chapelle Room is a novel venue for corporate events such as press conferences or small concerts for your customers or staff.
Did you know ? Robert Proton de la Chapelle was a French journalist, writer, musician, composer and politician who was very involved in Lyon's cultural life. He was the instigator of the Auditorium's construction in 1975.

LEARNING AREA
> Capacity: 99 people / Floor area: 99 m²
The Learning Area is dedicated to exploring and learning about music in all its forms. It is soundproof and equipped with lighting, multimedia and sound equipment. It is also modular, so can be adapted to any type of workshop, seminar or team-building exercise for your staff.
Did you know ? The Learning Area was inaugurated in July 2019 to accommodate the Sound Workshops. It was built with support from the City of Lyon, the Auvergne-Rhone-Alpes Region and the French Ministry of Culture.

THE ATRIUM AND THE LOWER ATRIUM
> Atrium capacity: 999 people / Lower Atrium capacity: 350 people / Floor area: 830 m²
The ground-floor Atrium and Lower Atrium offer very spacious, modular volumes that can be organised into different meeting areas, or allow different meeting times, during the same event. This all-purpose area can be arranged to accommodate everything, from a speech to display stands or a cocktail party. The Atrium, which is accessible directly from the Place Charles-de-Gaulle, is ideally suited to corporate events and seminars for groups of 100 to 1,000 people.
Did you know ? The Atrium is a lively venue for pre- and post-concert gatherings. It features a catering service and bar run, lectures, post-concert meetings with the artists... In this welcoming space, lights, music and flavours blend into a unique atmosphere.

THE MAIN CONCERT HALL
> Capacity: 2,100 seats when all areas are open or 1,200 seats when the second balcony is closed / Stage floor area: 450 m²
This 2,100-seat concert hall is one of the largest halls in the region. As a showcase for the Orchestre national de Lyon, it provides very comfortable facilities and makes it easy for the audience to see and hear what is taking place on stage. It is a majestic hall for major conferences and prestigious events.
Did you know ? At the back of the stage, behind two immense wooden curtains, the main concert hall houses a monumental organ. Comprising 6,500 pipes, it was built for the 1878 World Fair and the Palais du Trocadero in Paris. In 1977, it was installed in the Lyon Auditorium and, to this day, is the only large concert organ in France outside Paris.

GET IN TOUCH WITH US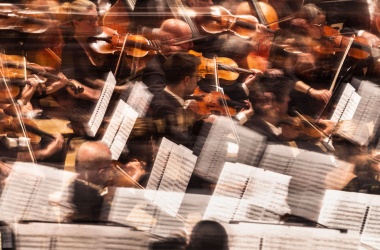 Musical evenings
The Auditorium-Orchestre national de Lyon is a prestigious venue for sharing an outstanding musical evening with your staff and clients.